"Dress shabbily and they remember the dress; dress impeccably and they remember the woman."― Coco Chanel
When dreaming idly of the "someday" wedding you will have, the thing that the imagination usually centers around is almost universal.  Here's a hint:  it's not the groom, and it tends to be white.  Yep.  You got it.  The Dress.
Growing up, the image of this Dress changes as we do; when we're five years old, it is a fluffy, airy, cake-like concoction that strongly resembles Disney's Cinderella's ball gown. In our teens, it starts to follow whatever is trending around us — suits in the 50's, miniskirts in the 60's,  heavy sleeves in the 70's, etc… it isn't until we get older that our imagination turns to something more original, more unique to ourselves — that one dress that is you. Now the day is upon you when it's not something kept strictly to your imagination — you're about to start the hunt to find The One!  For real!  Full of confidence, you stride into the boutique, bridal party in tow, and begin trying on and rejecting dresses in a frenzy.  Time passes; too much.  Your bridal party is getting restless and the champagne has long since run dry.  Suddenly, panic settles over you, as you gaze around at the mass of fluffy shiny glittery soft destruction and realize that not one dress has made it to the "yes" pile; not one has even made it to the "maybe" pile.  Slowly, it dawns on you:  you have no idea what the hell you're looking for!!
Don't worry, loves.  You are not at fault.  After all, how were you supposed to know the differences between A-line, mermaid, and ball gown?  Between organza and chiffon?  And that "crepe" doesn't just refer to a yummy French food?  Really?  And wtf is horsehair, and why would you want it anywhere near your dress, much less on it?
Never fear; the Girls' (basic) Guide to Gowns is here.  It will be broken up neatly into easily digestible pieces, so no worries about your brain being too stuffed with fluffy white material when you start your search.  This is simply an amateur effort to make your job a little less anxiety-ridden, and to ensure that you know how to find what will make you look your best on your big day.
Let's start at the beginning (a very good place to start):  Silhouettes.
Some basic knowledge of these and how they affect your image is crucial — happily, assuming you've been picking your own wardrobe for the past several years at least, you already have some instinctual knowledge of what does and doesn't look good on you.  More than anything, this will just give you a more solid ground to begin your search.
The term 'silhouette' is used to describe the line of your clothing and the shape it gives your body; of these, there are 8 basic types.
1) A-line: much can be garnered by the name itself.  An A-line dress tends to have a fitted bodice and a skirt that flares out from the waist, rather in the outline of an 'A'.
Perfect for: anyone!  It emphasizes curves if you need them, and hides any extra with its flowy skirt
2) Ball gown: with a fitted bodice, the ball gown silhouette is as full as a skirt can get.  Dramatic, and considered one of the most romantic silhouettes, it is supported by either hoops or petticoats (or sometimes both).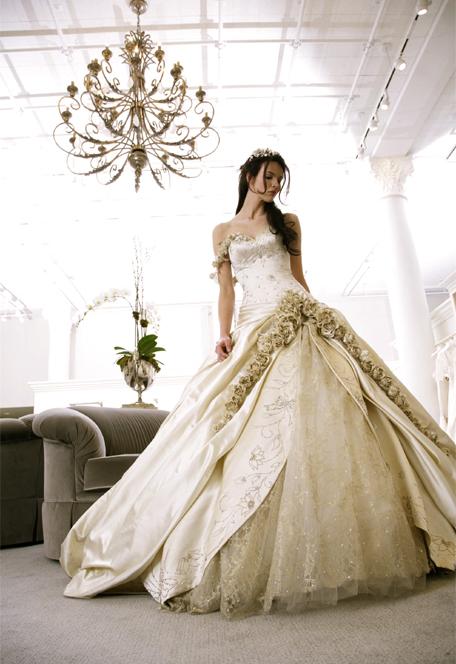 Perfect for: slender or pear-shaped figures, it creates elegant lines and flatters the waistline, creating an hour-glass figure.  Beware, petite brides — with such a heavy skirt, it is easy to overwhelm those vertically challenged.
3) Dropped: a vintage recycling from the 1920s, a dropped waist gown is just that — not starting at your natural waist line (which is located below your rib cage and above your hip bones), but anywhere from your hips down to mid thigh.
Perfect for: ladies who want their torsos elongated — avoid if you have short legs, though, it will make you look stumpy!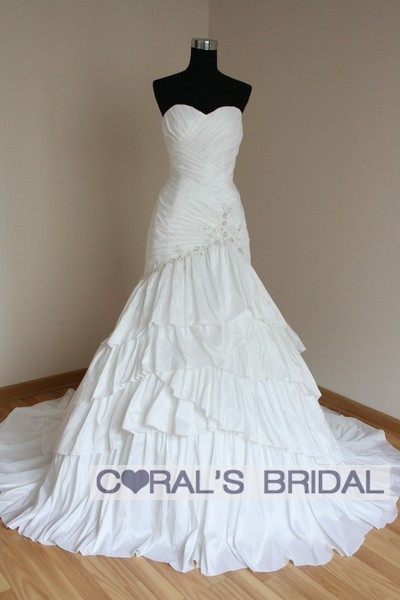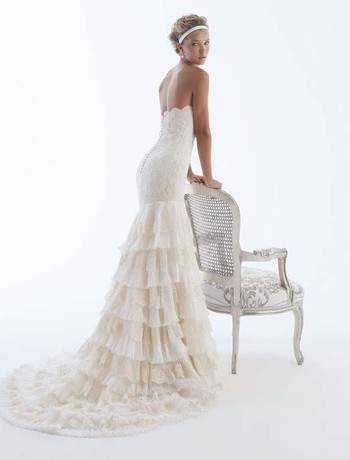 4) Empire: high-waisted, the skirt begins right below the breasts with a snug fit up top and flowing down.  There are a variety of options for the skirt; it can be anything from loose and flowing to fitted and contoured.
Perfect for: just about anyone, but ideal for a bride looking to naturally (read: minus the silicone) enhance her breasts.  And for those contemplating the traditional flowing skirt with the empire waist, with all that tummy room, it's perfect for brides bearing a baby bump!
5) Mermaid: Bold, tight, fitted, this dress is reminiscent of silver screen starlets of old — sleek and sexy until it hits the knee and then flaring out dramatically.
Perfect for: anybody who loves their curves and feels confident enough to show them off!  Extremely flattering on slender figures, whether short or tall.
(It's gentler – though equally sexy – cousin is the trumpet silhouette, following the same contours until mid hip and flaring to the hem)
6) Princess: more fitted than an A-line, it's called such because of actress Grace Kelly's preference that made this cut famous.
Perfect for: anyone who likes the basic style of an A-line, but wants more shape!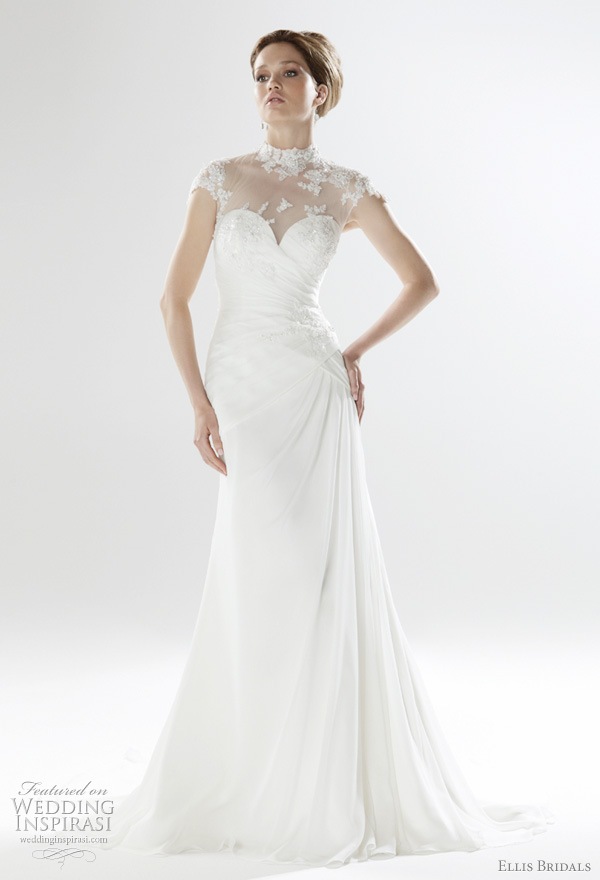 7) Sheath: simultaneously tight and flowing, the sheath is not a fitted gown and has no flare to its skirt, yet it still manages to show off a bride's curves to her best advantage
Perfect for: petite brides looking for the illusion of height without killing her feet, and curvy women wanting to acknowledge her curves without shouting about them!  But beware, its cut isn't very forgiving and can show off problem areas very easily.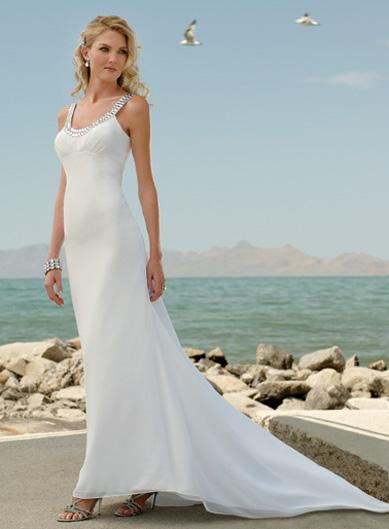 8 ) Tea-length: also known as ballerina, this dress hits at mid-calf, fun and flirty and a little funky too!  Much like a ball gown, it has a fitted bodice and very full skirt, usually helped by layers and layers of tulle or similar material
Perfect for: anyone looking to show off her fine calves